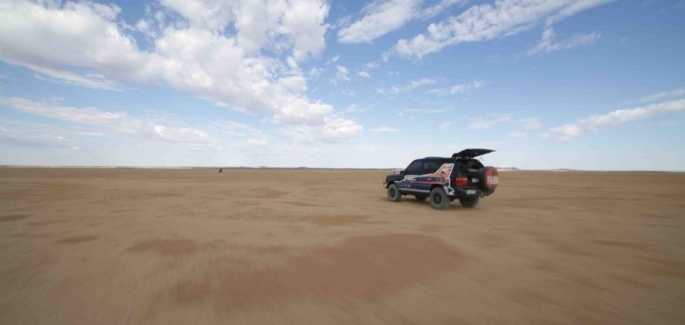 Update: The dates for BLOODHOUND's 500mph runs in South Africa have changed. For further details see the BLOODHOUND 500 event web page.
What dates will BLOODHOUND SSC be running?
As an event such as this has so many variables, we are currently only able to confirm that BLOODHOUND 500 will take place in the second quarter of 2019. Final dates and package details will be announced in due course, giving enough time to book flights and transfers to Upington.
The safe running of BLOODHOUND SSC is weather dependent. While we will make every possible effort to run the Car on the prescribed date, the safety of our driver, team, spectators and local residents will take precedence.
What time of day will runs take place?
It is likely that runs will take place during the early mornings.
How close are the viewing areas? Can I see the Car running?
The planned viewing areas are approximately 2km from the "flying mile" and are on slightly raised ground.
Will there be access to the Car and team for photos etc?
The BLOODHOUND Project is offering the chance to experience this historic occasion as part of the desert team. See www.bloodhoundssc.com/BLOODHOUND500  for more details.
Can a freelance photographer apply for media accreditation?
Yes, details will be published nearer the time.
How do I get there?
a. From UK: By air to either Johannesburg or Cape Town
b. From Johannesburg: Internal flights are available to Upington or you can drive (this takes about a day).
Do I need any special travel permits?
This depends on your country of departure and your nationality. It is recommended that you check with the South African Embassy in your country of residence.
Is it a malaria area?
No.
Is the event suitable for children?
The primary objective of the BLOODHOUND project is to inspire children in STEM subjects. Children are most welcome!
How do I get more information?
Keep coming back to our website as it is updated regularly.