Thursday, 1 January, 2015
This must be one of the first really peaceful evenings I have had in 2014, I am writing this on December 26th in front of a roaring log fire and there is no one around.  I am very conscious that I have been really negligent with the regular web reports but in this business we have 81 people to pay and money comes first before everything! So thankfully Andy's BBC monthly reports have been doing the job for us all.
I guess the real 2014 started at the December 2013 Christmas party – I thanked everyone for their tremendous commitment to the project and the huge 2013 effort.  By then we knew we would be going to the desert in 2015 but only if we could make it through 2014. But making it through 2014 sounds a bit too simple – really  we didn't even know whether we could  get through the first four months of 2014!  I explained at the dinner that really we had little to look forward to other than a huge team effort to get us well positioned for the January 2015 push to roll out, testing and transfer to Hakskeen pan. The 2014 budget called for a 50% increase in expenditure and I had to admit to everyone that night that I had no idea how we were going to fund it!
BLOODHOUND is funded by sponsorship - no investor on earth would want to invest their funds into such a high risk project with minimal opportunity of return. Government involvement would involve so many safety clauses and risk analysis committees that the project would be unworkable – so it has to be sponsorship backed up by whatever trading activity Ian Glover and the events and merchandising teams can bring home each month. The contributions made by the public and the 1K club soon adds up and it's hugely welcome. As an example, we offered the BLOODHOUND completion certificates towards the end of 2014 and the 1K members donated £24,000 which was very handy when it came to paying the rent in December. We were slow in getting the certificates out but the first ones were being delivered just in time for Christmas.
So how were we going to go from £4m per annum in 2013 to £6m in 2014? The answer was with a massive effort. Donald at Castrol had spent five years of persuasion to try to bring the company to a decision point and we made it. Our great friends at Rolex suddenly decided they wanted their logo on the car after all and Tony Parraman came up with the bright idea of suggesting an exclusive logo on the cockpit hatch which put them close to Andy – our driver who always wears his Rolex watch!
We could see financial trouble coming in mid summer. There were two deals on the table and if both failed we would have to stop - there was nowhere else to go. And if we stop work that is probably the end of the project. But the Jaguar deal went through following no less than a 6 year courtship. JLR later explained that they had never been involved with a sponsorship which generated so much goodwill and such huge levels of public interest.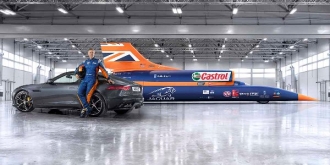 During the contract negotiation it was my job to explain to the Jaguar team that we had no time left to redesign the rocket power unit to accommodate a Jaguar engine for 2015. Peter French from Jaguar was very quiet at the meeting and next day was down at the BTC and within a week a supply of Jaguar engines started to arrive. It was a magic moment when the sheer commitment from the JLR team became very obvious and signified the start of a really special relationship. Two months later the first loan cars started to arrive and I could park my trusty Golf with 205,000 BLOODHOUND miles on the clock and switch to a very beautiful XFS Sportbrake which eats the miles like nothing I have even driven before. Andy has an F Type and you may see the BLOODHOUND cars on the motorways – colour dark grey with Jaguar and BLOODHOUND branding.
So with 1K club, Castrol, Jaguar and Rolex financial help we made it through 2014.  Well how did we do?
Well the target was a 50% increase in turnover to £6m. With the huge team effort we actually increased the turnover by a whopping 84%, seriously beating our targets. In theory that might suggest that BLOODHOUND is awash with cash. It isn't, the huge engineering expenditure and the start of the massive OPS budget soon soaked up any spare!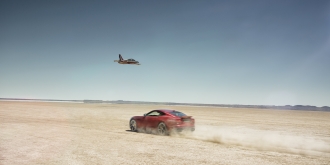 We also made it through the engineering highlights – the Nammo rocket tests, the completion of the upper chassis, the testing of the MTN desert communications system and of course the trial installation of the EJ200. But the MTN event really showed us how all this is to develop – with over 100 people on the desert and head to head track passes with Jaguars and an L31 jet demonstrating 500mph closing speed we realised that the teamwork was so good we could achieve all this with minimum hassle. I found myself giving 180mph rides to senior executives of the Northern Cape Government in Jaguar's new F Type R AWD. This is a truly great car and the Northern Cape team were grinning from ear to ear!
The five Nammo rocket tests were just spectacular – not only for their beautiful flame plumes and clean exhaust but also for the way in which the Nammo team calmly predicted performance and then achieved it. We are very fortunate to have an absolutely outstanding rocket partner which compliments the tremendous work and commitment from Rolls-Royce and the Royal Air Force. The Bloodhound powerplant department is going to deliver big time!
At the BTC the teamwork was really coming alive and it was becoming easier on everyone as the car was getting closer to completion and so much more was defined – the drawings are pouring from the drawing office as it all comes together. There were ten key assembly targets to achieve by Christmas:
Front Suspension - Pre-assembly Complete
Monocoque Intake Assembly Complete
Upper Chassis – glue, rivet and bake
Water Tanks Complete
HTP Tank and Mounting Assembly Complete
Main Jet Fuel Tank Assembled
Rear Suspension – Pre-assembly underway
Fin Assembly Bay complete and fin skeletal build started
Titanium Floor Assembly Bay complete
Rear Delta Assembly Bay complete
And working together with the REME team the job was done on time with some of the January work completed as well. There are broad smiles all around as everyone realised that we had made it!
Look at the new video on what Richard Knight describes as the Airfix presentation You can now see and identify all those truly beautiful parts!
Now for January …
Behind the obvious scenes at BLOODHOUND Technical Centre there are massive struggles to meet the huge financial demands and I would like to make a special reference to our RBS/Natwest Banking team. They admit that they have never seen anything quite like BLOODHOUND and that we are all learning on the job. During the 2014 mid year difficulties, the bank came to our help and in return we put on a London presentation for their clients and customers at the RAC club in Pall Mall. The event was immediately over subscribed (the RBS said they had no precedent for this!) and I had to leave at midnight when it was still going on with over 100 people still left!
So it's Boxing Day and all is quiet at BLOODHOUND – but not for very long. The team has a short break but many will be back before the New Year. We have to meet those engineering and delivery targets. One slip here and we can kiss good bye to the 2015 runs. And there won't be a slip - we are going to get there!
Visit the  Project Room at BLOODHOUND Technical Centre  and you will find it festooned with papers and drawings and plans for this hugely complex project.
It all points in the same direction; 2015 is the year we go to the desert to run BLOODHOUND SSC to 800mph and hopefully a new World Record.
There is a massive amount to achieve in just nine months and with a very tightly defined financial plan which has been taken on by our friends at BDO.  We need to spend £10m between now and Christmas 2015. It would be helpful if we had it in the bank, but we don't. It's going to be the usual hand to mouth fight for existence. Chris Fairhead and I were discussing this in early December and I asked the question: Now that we have developed such a fantastic engineering project with over £160m AVE in media exposure before we even get the car completed – and we are very near to signature on the broadcast contracts – and we have four of the biggest global brands on the car – why is the funding so difficult? Why is Britain so risk averse, why isn't this getting any easier?
Chris' response was interesting. He thought the problem lies with the corporate accountants who are all trained to focus on the downside of any proposition and to flush out  anything that might sniff of optimism.  I did some quick research and it seems that according to Professor Prem Sikka of the University of Essex, UK has some 280,000 professional accountants - nearly six times more than our medical doctor population and more than the entire accountancy population of the rest of the EU. Has this anything to do with the fact that we have so little national innovation to get excited about – and so many repeats on our national television!
2015 is going to be the year of our BLOODHOUND education ambassadors. While the BLOODHOUND Education Team of 20 is now booked up until March, the huge pace of expansion on BLOODHOUND education continues. Aulden Dunipace and I agreed a pretty ambitious 2014 budget and the team has achieved it, funded largely by its own activity where schools and colleges are paying for BLOODHOUND presentations and education days, and of course with an all important  background DFE contract for computing skills. The way things are going we may have to increase the budget yet again – this must make BLOODHOUND education the most successful STEM programme in the UK, with now some 5,700 schools colleges and universities involved.
But with this huge number of schools engaged, there is obviously no way that the BLOODHOUND educational team can provide the support that the schools require once the car starts to run and deliver all that on line data. The support has to come from the BLOODHOUND Ambassadors – a superb cadre of unpaid professionals available to present to their local schools and colleges. To date we have some 900 ambassadors and now the need is to organise the BLOODHOUND Ambassador team to ensure maximum productivity and communication. Derek Hull joins Seema Quraishi who has been supporting the team to date. We can now expect great activity and new direction from the team as we push through to the first car runs in Cornwall in August 2015. But the message is very clear – we need more ambassadors – 2015 is going to be BLOODHOUND's first great year – if you are thinking of joining as an ambassador this is the moment – join right now here - do not delay!!

One number has been bothering us for a long time. Early next year the Northern Cape Government will hand over the HakskeenPan desert course to Bloodhound – so the question is just how many tonnes of stones have the Meir District team actually cleared to prepare the course for BLOODHOUND SSC? Andy Green our master mathematician has been checking and he confirms the figure at 15,800 tonnes – that's 53 tonnes of stones for every single Meir team person involved.
So the holiday is over – it's back to work and now we need to make a big hole in that £10m target as quickly as we can and get it all together. We can do this now!
Thank you for your support and interest. It's been a very long haul – but 2015 is the year we are  going to run BLOODHOUND SSC.
All the very best for 2015 .
Richard Noble
December 2014.
(picture of Richard courtesy of Phil Evans)