by Andy Green
After the detailed study of the search programme, the highest concentration of potential run sites was in the US. A trip to Bonneville Speed Week in mid-August 2008 provided the perfect excuse to take the long route. We (Mrs Green, along to test her sense of humour, JV 'Trackmaster' Franck of SSC fame, and I) started and finished in San Francisco, with a 2300 mile route covering a total of 8 deserts. We managed all of this in 6 days, with 400 miles of off-road driving thrown in for good measure. It was a very long week – don't try this at home (or in the US) unless you really need to.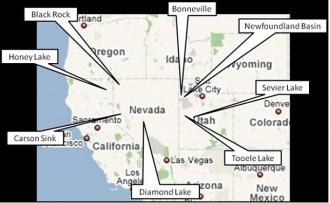 The order we decided to do this in was as follows: Honey Lake, Black Rock Desert, Bonneville and Newfoundland Basin (including a couple of days for Speed Week), Sevier Lake, Tooele Valley, Diamond Valley and Carson Sink. Most of these were unlikely to be suitable, but we had to check. Our hopes rested on Diamond Valley (reported to be very good) and Newfoundland Basin, if we could get on to it – access was the problem.
Honey Lake was our first stop. After a bit of a struggle to get onto the surface (we had to go round to the south of the lake and drive a fair way on dirt roads, past the entrance to the local prison, to get there). The result? Not good, the surface was bumpy, soft and crumbly, with a thick crust that could easily be lifted up in chunks: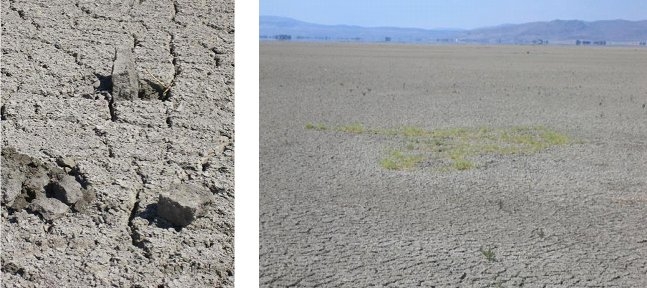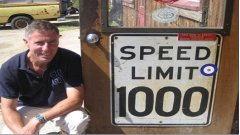 So we moved on to the Black Rock Desert. We arrived in Gerlach, the town on the edge of the Black Rock Desert (population 350, 4 bars, no church), where 'The Pavement Ends And The West Begins'. Both Thrust 2 and Thrust SSC teams know this place well and we are always welcomed back very warmly by the townsfolk. First stop was the Miners' Club, where we were greeted with a remarkably apt sign just inside the door.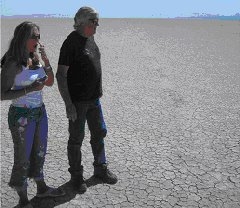 Looking forward to finding out if this is really true.... but it may not be at the Black Rock Desert, as the surface is not in a good condition. A decade without a really good flood has left the surface crumbly, bumpy, soft and uneven for much of its length. It's hard to remember how good it was in 1997, the change is so marked. Without another really wet winter, there is little chance that we can run here again.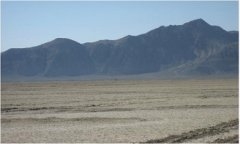 One of the undamaged areas on the west side of the desert, looking much as it did in 1997 (right) ...
...and (left) this is how most of looks now.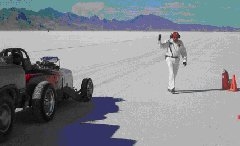 Off to Bonneville next. The Salt was in fantastic condition, the best I've ever seen it, with over 12 miles of useable track for the wheel-driven cars.
Picture right - Bonneville Speed Week – a great salt surface.
However, both ends of this 12 mile track are relatively thin salt, without the strength to support the 6-7 tonnes of BLOODHOUND SSC running on solid wheels.
To the Northeast of Bonneville lies a huge and unused area of salt known as Newfoundland Basin. It is apparently vast and very hard. However, we were not going to find out on this trip, as the mud surrounding the salt is far too soft to support a vehicle – or even the cone penetrometer! (picture below)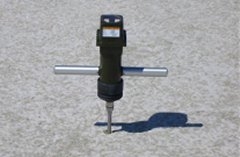 We're still working on a route to get out there – Newfoundland Basin could be the perfect place for us.
Sevier Lake turned out to be much the same as Newfoundland Basin – inaccessible due to soft mud. Add the fact that it's a long way from the nearest town and we crossed it off the list.
We also took a look at Tooele Valley, which was marginal on length but very close to our route, to find that it was soft and mostly covered in scrub. Scratch another one – this is getting a little depressing, we still haven't found a good site.
Diamond Valley was next, though, and that was supposed to be excellent.
When we got to the small town of Eureka, it appeared to be the perfect place to base a Land Speed Record attempt, and the locals were very positive about the quality of the desert surface some 20 miles to the North. Access was also possible via a public gravel road – this was looking more and more promising.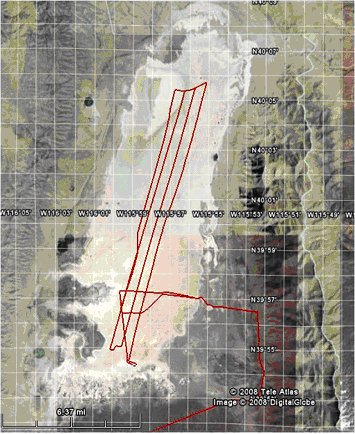 As we drove onto the surface of Diamond Valley for the first time, it looked ideal. Dry, hard and perfectly smooth – much like Black Rock in 1997 – just what we had been looking for. However, things didn't look so good once we started the full survey process (identify likely track areas, then drive parallel lines using GPS and take hardness readings, samples and notes over as many runs as it takes – this can be a long job).
While the southern end of Diamond Valley was suitable, the middle part of the track was very narrow and the northern end was generally soft.
Right - Diamond Valley – GPS trace of our survey
The map opposite shows the GPS traces of our survey, with the deviations we had to take to avoid obstacles in the middle of the desert.
We also completed a full survey list and plotted the hardness of the surface.
The graph below shows a plot of Cone Index against distance from the southern end of the playa. The 2 dotted lines how the rough level of minimum and ideal hardness levels – it's not reaching the ideal level, and is frequently below minimum. Overall, Diamond Valley was at best marginal – we were going to have to keep looking.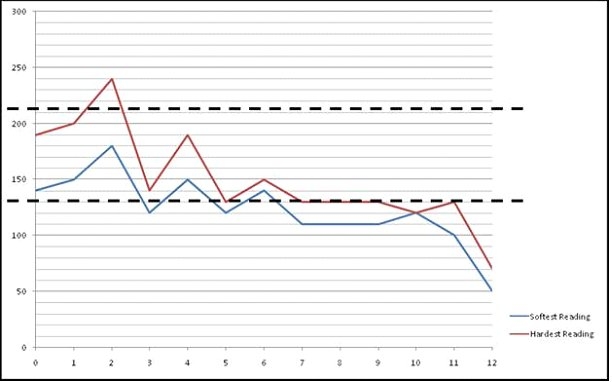 Our last stop was Carson Sink, near Fallon Air Force Base. Great location, poor surface: bumpy and scrub-covered in many places. Last one on the list, last one to be crossed off. We had covered a lot of miles and had not yet found the ideal run site for BLOODHOUND.
We'll keep looking.