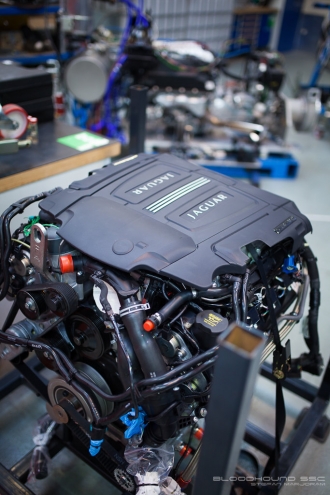 The auxiliary power unit for BLOODHOUND SSC drives the rocket oxidiser pump, which will supply 800 litres of high test peroxide (HTP) to the rocket in just 20 seconds: this is equivalent to 40 litres (over 9 gallons) every second.
The auxiliary power unit is a 550bhp Jaguar Supercharged V8 engine, lubricated by Castrol EDGE. The rocket will be a single monopropellant unit for the initial high speed runs (up to 800mph) and then a cluster of hybrid design rockets for the 1,000mph runs, both developed by Norwegian specialist Nammo.
Keeping the APU cool
The Jaguar engine has to sit next to the HTP tank, but it's vital that the heat from the engine doesn't transfer to the HTP itself to prevent it exploding. The engine's exhaust is therefore covered with a ceramic coating which can reduce its surface temperature by at least 30 percent.
Find out more about how ceramic coatings are going to keep BLOODHOUND cool.