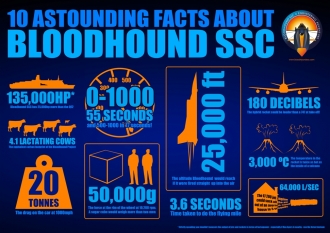 The BLOODHOUND Team has put together a series of 'infographics' to explain aspects of the Project, such as facts about the Car and the desert at Hakskeen Pan where it will run, and how the Car compares with other extremely fast things - including Usain Bolt.
You can also find out about the history of the World Land Speed Record from way back in 1898. We've come a long way since then!
Follow the links below to find out more about the Car and other things relating to the BLOODHOUND Project.
1 – 10 Astounding Facts
2 – Forces and Stresses
3 – 10 Amazing Facts about the HakskeenPan
4 – The Land Speed Record
5 – Speed comparisons of the fastest things in the world
6 – Castrol. A proud history of fuelling pioneers
7 – Find out about BLOODHOUND Education