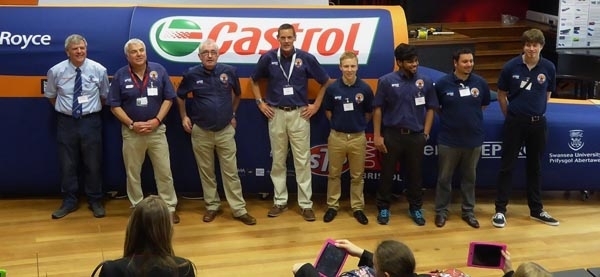 BLOODHOUND STEM Ambassadors play a key role in the Project, as they work with children and students to inspire them through talks and practical, hands-on activities.
Because they work in a variety of locations with young people, all STEM Ambassadors have to be registered with an organisation called STEM Learning, which includes applying for a Disclosure and Barring Service (DBS) certificate and attending a 2-hour induction session. Once registered, they receive support from their local STEM Ambassador Hub and insurance cover for their voluntary activities.
There is no fee to become a STEM Ambassador – the whole process is completely free. However, you must commit to at least one voluntary activity each year – most BLOODHOUND education activities will count towards this.
How to register
Step 1:
Familiarise yourself with the STEM Ambassadors Programme by reading the information on the STEM Learning website. 
Step 2:
Begin the registration process by completing the online form at db.stemnet.org.uk:
On the 'Qualifications' tab of the registration form under the 'Select Ambassador Scheme' option, please select the 'Bloodhound SSC STEM Ambassador' option. This will give STEMNET permission to share your personal information with BLOODHOUND.
Within 5 working days, you should be contacted by your local STEM Ambassador Hub who will tell you about the DBS application process and invite you to an induction training session.
It takes approximately 4-6 weeks from the date of your induction session to receive your DBS certificate.
When you have attended the induction and received a DBS certificate, you will be an Approved STEM Ambassador and can take part in BLOODHOUND activities with schools.
Step 3:
Once you have completed the STEM Learning process and become an Approved STEM Ambassador, please complete our online form. The information you give us will enable us to let you know about relevant BLOODHOUND events and initiatives.
We will also provide you with access to Ambassador resources and training materials.
Please note that STEM Learning never shares any details of your DBS certificate with outside organisations, including BLOODHOUND. We ask you for your DBS number for our own administration purposes, but telling us your DBS number is optional. If you would prefer not to tell us, then please leave the DBS number box blank in the online form.
More information
If you have any questions during the registration process or afterwards, please contact us at ambassadors@bloodhoundeducation.com