Education News
Monday, 29 July, 2019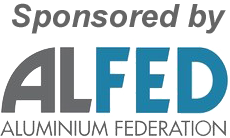 A team from St Bede's College in Manchester last month received their prize for winning the Bloodhound Aluminium Desert Wheels Design & Technology Challenge.
As well as individual prizes for members of the winning team – Gabi, Jack, Joseph and Anthony – 78 children across two year groups enjoyed a Rocket Car Workshop on 24th June as a reward for their success.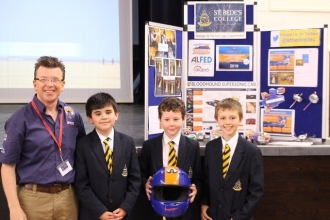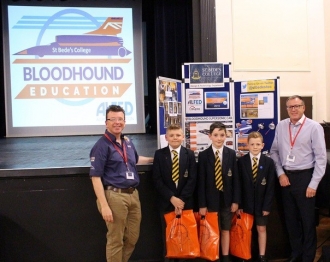 CEO Tom Jones and Training & Education Manager Kathy Romback from the Aluminium Federation (ALFED), which sponsored the competition, joined Bloodhound Education's Rob Bennett and Anthony Rhodes to present the prizes to the winning team.
Judging the entries
The challenge was to take on the role of an engineer by designing desert wheels using recycled aluminium cans. Teams tested and improved their designs, then recorded their findings in a poster and video. The judges were particularly impressed by the winning team's communication skills and appreciated their innovation in creating different designs for the front and back wheels.
Over 100 teams entered the competition and over 1,400 people accessed the competition's teaching resources. Runner-up was Toby, a solo engineer from Newbold and Tredington Primary School, who the judges described as "an able engineer already, with a natural skill".
Prize day
During the Rocket Car Workshop, the children spent the morning designing and constructing cars in groups of three. Then, after lunch, the cars were taken outside and raced, with the fastest car reaching an amazing 64mph! The winning team's name will be added to the names on Bloodhound LSR's tail fin when it runs in South Africa.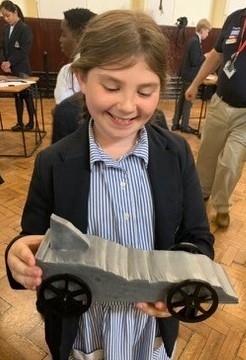 Sarah Manning from St Bede's College said "The students who took part became enthused in the Bloodhound project and engineering during the competition. Through the use of the competition and other excellent resources available through the education website, other classes, including other subjects, also became involved.
This culminated in the outstanding rocket workshop. This engineering extravaganza with its engaging presentation, good resources and race track excitement created a buzz throughout the whole school on the day. It was followed up by presentation assemblies in the following days and in the school newsletter. Therefore, all of St Bede's College will be eagerly following the project hopefully through to record breaking success!"
Find out more
Like the sounds of our Rocket Car Workshop?