Engineering News
Thursday, 19 February, 2009
Lots of people were gathering again at the University of the West of England today, people from the University, a couple of sponsors, BLOODHOUND SSC team members, press people … and a bunch of very enthusiastic students. Everyone seemed to be crowding round the BLOODHOUND SSC mock-up which has come along in leaps and bounds in the last few weeks. The occasion was Andy Green trying for size the mock-up of the cockpit for the first time.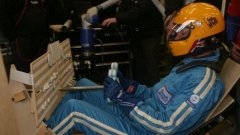 Picture top: Andy with the UWE Engineering students who built the cockpit
Picture right: Andy Green tries the cockpit mock-up for size
The cockpit has been built by a couple of teams of UWE students who were quite rightly very proud of their work. They were not given a great deal of information to work with – deliberately. This meant that they came to the project with fresh minds; they had to solve a lot of the problems for themselves. The solution they came up with was encouragingly close to previous land speed record cars, but there were also some new ideas that will give the BLOODHOUND SSC design team something to think about as they go into the next stage of design.
The cockpit they had built was fully adjustable for just about everything, from the position and angles of seat, to how far the pedals move. Andy and the students spent quite some time getting everything into the perfect place – for instance, the dashboard was adjusted so that it was far enough away for Andy to focus on it quickly, yet near enough for him to use the switches and buttons; high enough to clear his knees, yet low enough not to obstruct his line of sight.
Picture right: FARO engineer Jonathan Culley digitises the cockpit set up
Once Andy was happy with the whole set up, the couple of guys from FARO, one of the project's sponsors, used their amazingly accurate measuring arm to take precise measurements of where everything was in and around the cockpit, so that the whole setup can be digitised and reproduced on their computer and so incorporated into the design team's CAD modelling. They even digitised Andy as he was sat patiently in the cockpit, so that the position of his arms, legs and helmet could be logged.
Andy commented afterwards "This was a great job by the UWE students. I'm personally very grateful for their hard work - it's been a really useful activity all round. We'll be keeping them involved as we develop the systems and cockpit layout further. Thank you very much, UWE, it's been a great effort!"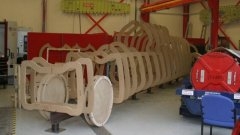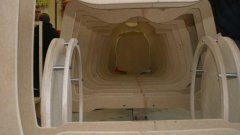 Image left: The full-size BLOODHOUND SSC mock up at UWE
Image right: Inside the full-size BLOODHOUND SSC mock up, looking back from the front wheels
Video
Andy Green tries out the mock-up cockpit that students at the University of the West of England made.