Engineering News
Wednesday, 9 May, 2012
On the 30th April, we announced our wheel manufacturer, Castle Precision Engineering, who will take on the manufacture of both the UK runway and desert wheels. and we took the full size show car to their site to introduce the project to their workforce.
The closest manufactured object from a functionality, traceability, quality and process flow perspective to Bloodhound SSC's desert wheels is actually a jet engine compressor disc. The compressor discs rotation speeds and forces are all close to our wheels and that's why Rolls Royce have played a part in our understanding of the wheel design for Bloodhound SSC. Further to their support , two years of Engineering and design analysis effort by Lockheed Martin supported by class-leading material expertise provided by Innoval Technology have matured the design scheme to the point where input from a manufacturing team will now allow us to continue on and complete the detailed design of the fastest car wheels in history.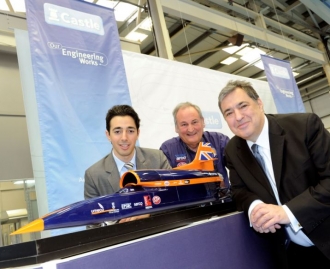 The team at Castle already manufacture compressor discs for the Rolls Royce Trent family of engines and have done so for many years. The same level of quality, care and processes of inspection will now be applied to the wheels for Bloodhound SSC - in short Andy couldn't be in safer hands!
Yan Tiefenbrun (Castle's Operations Director, pictured left with Richard Noble and Managing Director, Marcus Tiefenbrun) pointed out in his announcement to his work force, press and local dignitaries "the wheels are vital to the success of the project and are a key component that simply cannot fail" - they have to be right! And the level of skill, experience and attention to detail that Castle bring to the wheel build programme is now key to delivering robust wheels for Bloodhound SSC.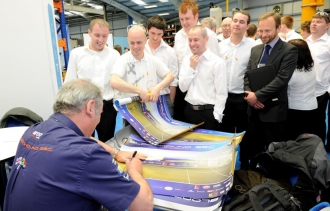 The response from the workforce at Castle has been remarkable and it was great to see members of the night shift come back into work so they could hear the announcement for themselves and then cue up for a signed poster from Richard Noble who was there to introduce the project and sign the agreement in front of the press and Castle's workforce.
It's been nearly four years in the making to find the right partner to make the wheels for Bloodhound SSC and it's another vital step achieved towards the primary structure build of the car. Castle have a great team and are all massively enthusiastic about the project and the work ahead and that enthusiasm was truly infectious; the Bloodhound team came away feeling very lucky to have been part of their special day.