Engineering News
Saturday, 1 October, 2011
Bloodhound SSC Engineers Brian Coombs and Roland Dennison have completed the design of the rear subframe chassis - one of the major targets featured on the "Rolex Countdown Timer" on the front page.
The rear subframe is the part of the chassis that fits between the rear wheels and is subject to intense stresses when the rocket engine fires. The diagram above shows the rear subframe mainly in blue - which is good! Roland's stress analysis would show greens yellows and reds if the stress in the materials was too high.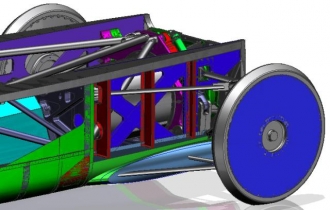 The picture on the left shows a view taken from Brian's CAD design with the wheels in place and gives more of an impression where the strengthening has been added and where the suspension fits.
Another view from Brian's workstation (below) is looking at the rear of the Car and clearly shows where the 18" Hybrid rocket chamber fits.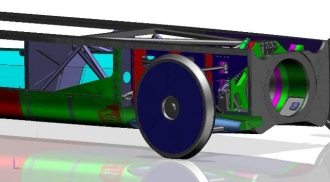 Roland has performed a stress analysis on the whole of the chassis - the picture below shows displacements of the lower chassis when both the rocket and EJ200 jet engine are running under full power - the higher displacements towards the middle of the car, shown by orange and red colouration, are caused by the sheer power of the engines "bowing" the body framework.