Project News
Thursday, 19 December, 2013
The BLOODHOUND Project is proud to announce a new partnership with NAMMO, the rocket propulsion specialists. The company, based in Norway, will supply its hybrid rocket technology for use in BLOODHOUND Supersonic Car, the 1,000 mph Land Speed racing car now being constructed in Bristol, UK.
NAMMO rockets are used by the European Space Agency to separate the stages of Ariane 5, the world's most reliable & commercially successful satellite launch vehicle.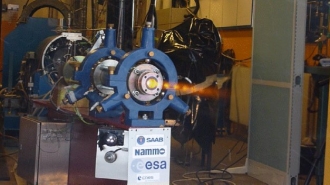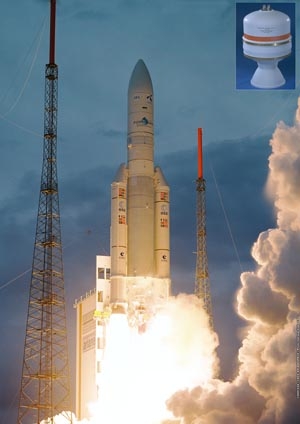 The company is also developing a new family of powerful yet compact hybrid rockets at its test facility in Raufoss, Norway.  A combination of these motors will be used in BLOODHOUND SSC to provide circa 27,500 lbs (123.75 kN) of thrust which, when combined with 20,200 lbs (90 kN) thrust from the car's EJ200 jet, will generate the equivalent of 135,000 thrust horse power (thp) – eight times more power than all the cars on a Formula 1 starting grid combined.  Aerodynamic drag increases four-fold for every doubling of speed, so this level of motive force is required to push the car to its 1,050 mph (1,690 kmh, Mach 1.4) maximum design speed, where the air pressure will be 11 tonnes per square metre.
The BLOODHOUND Project previously employed a UK - US based rocket research firm, Falcon Project Ltd, to validate the concept of using a hybrid rocket in the car. This work culminated in a static test, shown live, in October 2012, where the Team fired its 18" motor, the largest hybrid rocket ever developed in Europe.  Although successful, the test showed that further development work was needed to optimise this bespoke design. 
The experiment brought BLOODHOUND to the attention of NAMMO which, it transpired, had a tried and tested technology that could be used in the car with minimal adaptation.
Given the demands of producing the most complex land vehicle ever created, a unique prototype capable of outrunning a $250m jet fighter, the decision was taken to redirect the rocket development programme towards NAMMO's propulsion system.
"Creating rocket motors from scratch is not easy and we were impressed by what BLOODHOUND had achieved", said NAMMO's Vice President of Technology, Dr Onno Verberne. "It was exciting to discover that we had a product of similar size and output that could help the Team both simplify and accelerate its rocket programme. We are extremely proud of our technology and look forward to demonstrating it to the world when BLOODHOUND runs in 2015 and 2016."
BLOODHOUND'S Chief Engineer Mark Chapman said, "Nammo is a great addition to our team.  Their technology is outstanding, as are their test facilities. Most important, though, is their enthusiasm for being part of this unconventional, high profile, engineering adventure.  They share our passion for inspiring the next generation of engineers and innovators."
- Ends -
About Nammo
Headquartered in Norway, Nammo Group is a technology driven aerospace and defense group specializing in high end products. The core business is the development, production, and sales of military and sports ammunition, shoulder fired weapon systems, rocket motors for military and space applications, and global services for environmentally friendly demilitarization. Nammo has 2.200 employees and is present in 9 countries with 21 production Sites. Please visit www.nammo.com for further information.