Event News
Tuesday, 12 April, 2011
On Tuesday 12th April 2011, a team of BLOODHOUND SSC Engineers headed by Chief Engineer Mark Chapman announced the publication of the BLOODHOUND SSC Genome part 2. This unprecedented release consists of almost 50 Mb of CAD (Computer Aided Design) files and detail many of the constituent parts for the Supersonic Car's design from the inner parts of the rocket fuel pump's gearbox to the major chassis components currently being fabricated by sponsor Hampson Industries.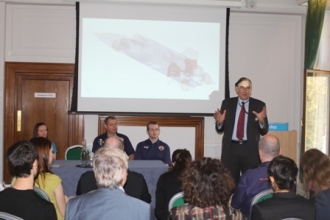 The announcement was hosted by sponsors Institution of Mechanical Engineers' President John Wood at their prestigeous headquarters in Birdcage Walk, London (see picture right). Mr Wood likened the engineering drawings to the cutaway drawings that appeared in the comic The Eagle in the 1950's and 1960's, and was sure that they would inspire a new generation of engineers just like their counterparts of 50 years ago!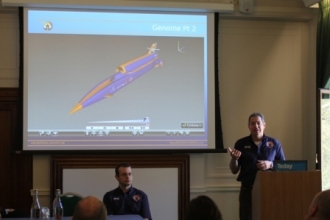 BLOODHOUND SSC's Chief Engineer Mark Chapman (left) demonstrated just how detailed the files are that are being published, and shown some of the analysis that can be done using sponsor Siemens free downloadable program, JT2Go ... including one sectioned drawing that could have come straight out of The Eagle! He showed just how accurate the released files are by directly comparing them with the actual drawings released to Hampson Industries. He also demontrated an animation developed using the files and Cortona3D. Further details of you you can download JT2Go and the CAD files, plus the Cortona 3D animation can be seen on our CAD drawings page.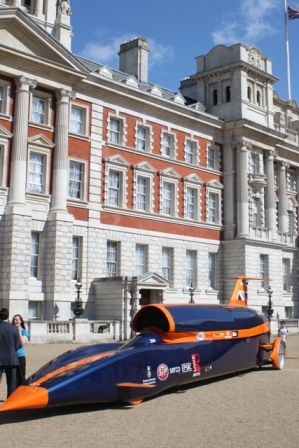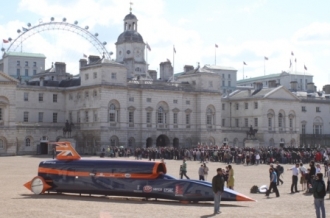 To complete the day out, the full sized BLOODHOUND SSC Show Car was parked for the day on Horseguards Parade and looked stunning in the Spring sunshine. The Show Car was ably supported by a bunch of ever enthusiastic BLOODHOUND Ambassadors to answer questions by the many visitors who thought they were coming to see the changing of the guard, but ended up with a bonus attraction. Also the call was answered by many 1K Club members, who had been alerted to the Show Car's visit and had come especially to have a look!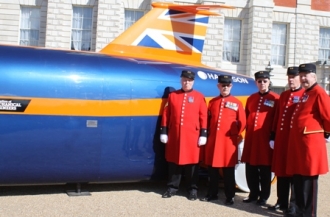 We were even visited by 5 Chelsea Pensioners who had seen a talk given by Project Director Richard Noble recently and were interested in seeing the Show Car for themselves!
Picture top of the page - BLOODHOUND Engineers Chris Hannon and Mark Chapman pose in front of the Show car.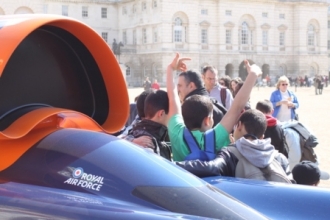 Left: Chris and Mark were not the only ones, many surprised and excited visitors also posed for pictures!