Desert News
Thursday, 22 November, 2012
Hakskeenpan played host recently to the first Kalahari Speedweek in South Africa when hundreds of car and motorbike fans unleashed their vehicles on the surface of the pan in the far north west of the Northern Cape. Speed was the name of the game for the multitude of very different young and old entries ahead of BLOODHOUND SSC's arrival in 2013 and was a great trial run to show what the team must expect.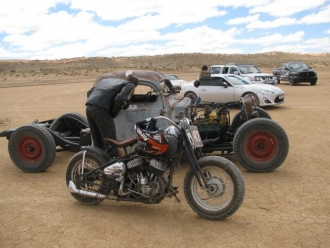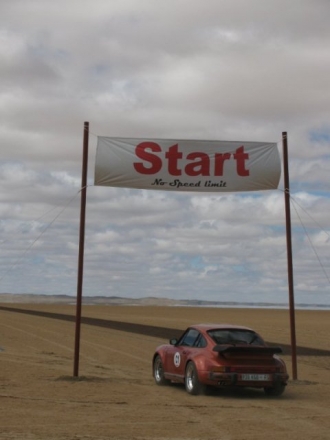 Using a track three kilometres away from the surface being prepared for BLOODHOUND, the Speedweek enthusiasts were given a 7 km long runway to build up speed and be measured by Truvelo who are also the timekeepers identified by the Fédération Internationale de l'Automobile (FIA) to scrutinise  BLOODHOUND SSC over the measured mile (1.6 km).
The fastest speeds obtained over the nine days of runs, less those seriously affected by wind, were a Suzuki Hayabusa motorcycle at 321 km/h (199 mph) and a Lamborghini Aventador that delivered 308 km/h (191 mph).  
The surface of the pan made life difficult for all types of vehicle and had to be treated by Dust-A-Side to help with traction. Then the weather intervened and brought a halt to all runs with violent wind and dust storms that threatened to destroy the marquee that hosted the bar, entertainment and food facilities! To the rescue came a Bedouin tent company in Upington, 250 km away, who managed to transport and install a new tent ready for the evening's festivities.
Hakskeenpan will shortly become the world's best speed track when the efforts of the local communities to remove over 6,000 tonnes of stones and rocks by hand is completed before the pan floods again at the end of the year. The weather, as experienced at Speedweek, will have a significant impact on the running of BLOODHOUND SSC on Hakskeenpan and visits will need careful planning to see the car in action!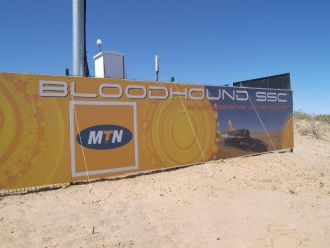 The preparation for the whole event by the Speedweek team was most thorough given that it is in the middle of nowhere and all facilities including, water, accommodation, electricity, toilets and showers had to be brought in. Plus they handled all the emergencies efficiently and provided the Northern Cape Provincial Government and Bloodhound team with lots of answers to the challenges that will be faced on Hakskeenpan. New communications sponsor MTN provided the internet link to the world and will be putting in a permanent connection to Upington that will also benefit all the communities and schools along the 260 km route. For Speedweek, they installed a temporary mast with a satellite back-up; all powered by generator with a battery inverter pack to allow sleep in the tents at night!
For a complete list of run times and to enter next year, visit http://www.speedweeksa.com/
Dave Rowley, November 2012