Education News
Monday, 4 May, 2015
By Christopher Lowther, BLOODHOUND Ambassador
I write this from a farm near Paarl, Western Cape, South Africa, while enjoying yet another magnificent sunset over the Paarl valley from the stoop and reflect on all that I have seen and done in my short stay here…
But before I do - can you help?
The BLOODHOUND Project is starting to have an impact in South Africa, thanks to the local team, but it is clear they need more ambassadors to visit schools. So if there are any Ambassadors who are thinking of taking a holiday in South Africa – and I highly recommend a visit – they should offer their services to the South Africa team who would be delighted to make the necessary introductions. A win-win for everyone! Please contact Dave Rowley, Education Programme Director - South Africa (dave.rowley@bloodhoundssc.com).
Holiday excursions
Officially I am here on holiday. However, following a visit to two schools near Paarl last year I had been in contact with Dave Rowley and Wendy Maxwell from the BLOODHOUND team based in Kimberley and had promised to make myself available for BLOODHOUND duties when I was next back in the country.
In anticipation I brought with me two BLOODHOUND Education Toolkits, kindly provided by the Institution of Mechanical Engineers, to use in schools and also to show the South African team.
BLOODHOUND goes on show
Courtesy of Dave and Wendy, I attended the British High Commissioner's Reception on the 'Eve of Parliament' in Cape Town. There I met other local BLOODHOUND Ambassadors who were erecting a full scale modular mock-up of the car in the High Commissioner's wonderful gardens in Bishopscourt. The local team had made great efforts to design and manufacture the modular car in time. This was its first showing and it will be used subsequently at other public events.
The reception was, apparently, the party to attend in Cape Town and the 'great and good' from South Africa's government and foreign embassies attended in force. The British High Commissioner Mrs Judith Macgregor gave a wonderful speech extolling the virtues of the links between UK and South Africa. In particular she drew everyone's attention to the exciting BLOODHOUND Project and encouraged everyone to visit the stand and see the educational material which had been produced for the benefit of children in South Africa and UK.
Hopefully the high profile given to the project will have stimulated yet more interest from South African leaders in Government, education and industry.
Inspiring children
Meanwhile I was exploring potential visits to schools in the Paarl Area. I left my card with the local parish priest and, as a result, shortly thereafter I met with Mr Brian, the principal of Mary Help of Christians, a state Catholic primary school in East Paarl. The school has around 500 pupils, called 'learners' in South Africa. However, since the school is very poor and does not have a school hall, Mr Brian, a self-declared petrolhead, invited me to address 70 of his grade 7 learners (12+) in one of the classrooms.
Coincidentally, on the day of my visit the local newspaper, The Paarl Post, ran a full page spread about the BLOODHOUND Project in the motoring section, which further inspired the Principal.
The school has limited projection and sound facilities, so Mr Brian bought a brand new projector for the day but unfortunately we were unable to get it working in time. Nonetheless the children and staff were most enthusiastic and made do with the videos shown on my laptop! UK children should be truly thankful that they have these facilities as a matter of course.
The children really appreciated the BLOODHOUND pens, badges, posters, chatterboxes and reaction time test cards. I left a CD containing BLOODHOUND videos with Mr Brian to enable the videos to be shown later.
Raising aspirations
Dave and Wendy then contacted me with a request to visit a Primary School in Klapmuts, near Stellenbosch. This state school is located in a very poor township area and had been failing badly. In 2010 the South African Minister of Education had visited the school to open the newly built facilities, including new classrooms and a gymnasium/school hall, in order to herald a new era for the school.
The science teacher, Ms Shandy Cystor, was most enthusiastic about inspiring the children in science and engineering since they came, in the most part, from very poor and low aspirational backgrounds.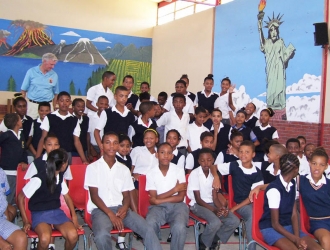 Klapmuts is a very large school of around 1,500 children, so my BLOODHOUND presentation was limited to 180 grade 7 learners. The school had projection facilities but an incompatible sound system – however, the caretaker came up with the ingenious idea of transmitting the sound via my own tiny portable speakers amplified by a microphone laid next to them on the desk!
This was by far the most challenging presentation because English is their second language and, when asked, the children showed very little interest in maths and science. However, as expected, they responded most positively when asked the question of whether they wanted well paid jobs.
The issue would appear to be that science and engineering is way outside their experience – and that of their parents and class teachers. Somehow we need to reach such children and their teachers to raise their aspirations. Hopefully the BLOODHOUND Project is helping to achieve this.
It was encouraging that a significant part of the audience responded well to the presentation and videos which eventually stimulated their interest. I think Ms Cystor has her work cut out, but hopefully further visits from Afrikaans speaking Ambassadors will enable some consolidation of this initial visit. I provided her with a quantity of follow-up material kindly provided by the Institution of Mechanical Engineers.
Engineering and science are for girls too
By this time, given the large number of pupils involved, I had run out of educational material. Fortunately, Dave and Wendy replenished my stock en route. This enabled me to visit Paarl Girls High, a very respected and successful girl's school in Paarl.
Here I followed an inspirational young Christian woman speaker who had been invited to speak to the whole of the Primary school – around 250 girls aged from 6 to 12 years old – about the World Day of Prayer for Women. This gave me the opportunity to explain the need for more women to take up careers in engineering and science in order to improve the world around us.
The girls were most enthusiastic about maths and science but, apparently, had not had much opportunity to hear anyone talk about the opportunities offered by a career in science and engineering. So this was a great opportunity for the BLOODHOUND project to fill the gap. The presentation went well and it was very touching when two of the girls came up to me afterwards to thank me for inspiring them.
Looking forward
All of the schools I visited are now looking forward to the arrival of the BLOODHOUND Car in this year and will be following the project with interest. I hope to be able to visit these schools, and perhaps others, when I am here again next year.
There would appear to be a very wide disparity in the quality of schools in the region. However, the common denominator is the children's enthusiasm to learn and to work hard at school in order to get a job. Perhaps the title 'learner' sets the scene?
---------------
Thanks
I would like to give thanks to Dave Rowley and Wendy Maxwell in South Africa for their help and support. I should also like to thank my wife Ann, a former primary teacher, who does an admirable job in assisting me and the schools' teachers in 'crowd control', both in South Africa and in the UK.