Engineering News
Thursday, 3 May, 2012
Today, at Holyrood, BLOODHOUND SSC's driver Andy Green and the Institution of Mechanical Engineers announced that Glasgow firm Castle Precision Engineering Ltd is to produce the wheels for the 1,000 mph world Land Speed Record car.
The 90kg, 900mm diameter solid aluminium wheels will spin up to 177 times per second at top speed, withstanding a load of 50,000 radial G at the rim as the 7.5 tonne jet and rocket powered car blasts across its South African desert racetrack in 2013 and 2014.
The fastest wheels in the history of the wheel, they are the product of a three year design study by BLOODHOUND engineers, Innoval Technology Ltd and world renowned aerospace company Lockheed Martin UK.
 
 The challenges the team had to overcome included creating a design that would not fly apart when turning 10,200 times per minute, and which could be manufactured to incredibly tight tolerances with zero distortion.
Castle Precision Engineering Ltd, specialise in high tech engineering and manufacturing for the aerospace, energy and automotive sectors. Their world class facilities are geared up to manufacture wheels for both UK runway testing (up to 200 mph) and the 1,000 mph world record wheels.
"Our background and experience of manufacturing critical aero engine components means we have the investment, skills and the expertise to deliver on the highly critical nature of these wheels," said Marcus Tiefenbrun, Managing Director of Castle Precision Engineering Ltd. "Our involvement on the Project forms an integral part of our own drive in encouraging and attracting the next generation of talented young people into engineering. This is vital to the re-balancing of the economy and UK industry that is based on innovation and High Value Manufacturing."
 
 "These wheels will be critical to the performance of BLOODHOUND," said Philippa Oldham, Head of Transport and Manufacturing at the Institution of Mechanical Engineers. "It is testament to the exceptional manufacturing skills base in Scotland that they will be made here."
 
"People have been using wheels for 5,000 years and these are the ultimate," said Andy Green, who set the existing Land Speed Record of 763 mph driving Thrust SSC (Super Sonic Car) in 1997. "A vast amount of design and engineering has gone into them.  They illustrate the extraordinary nature of BLOODHOUND: at the speeds we're aiming for, nothing is straightforward. Even the simplest aspect is challenging. So this is a case of people reinventing the wheel...we had to!"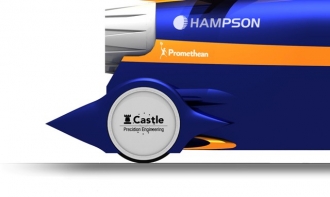 The BLOODHOUND Project is not, primarily, about speed.
 
Rather, it is an international education initiative aimed at inspiring the next generation of scientists, engineers and mathematicians by demonstrating these subjects in the most exciting way possible. The unique nature of the Land Speed Record, where the challenge comes from confronting the laws of physics rather than other teams with similar technology, means the BLOODHOUND Project can share all its data, designs, achievements and setbacks in the process.
 
Consequently, the Project is already being followed in over 5,000 primary and secondary schools across the UK and 207 countries world wide, with circa 7m students able to access free curriculum ready BLOODHOUND information and lesson materials in class.
 
Students of all ages are invited to explore the remarkable engineering that allows BLOODHOUND SSC to accelerate from 0-1,000 mph and back to zero in just 100 seconds while safely handling the phenomenal forces and loads acting upon it, such as: 47,000 lbs thrust (equivalent to 180 F1 cars) generated by its jet and rocket engines; 30 tonne suspension loadings and air pressures on the bodywork of up to 10 tonnes per square metre.
 
Serco, a founder sponsor of BLOODHOUND, have kindly arranged for the BLOODHOUND SSC show car to go on public display outside the spectacular Riverside Museum from 26th – 28th April 10:00 – 17:00. Visiting schools are invited to attend special BLOODHOUND education workshops where the students will learn about the science and technology behind the record breaking bid.
 
Duncan Mackison, Serco said "Our pioneering partnership with Glasgow City Council presents a wonderful opportunity for us to provide Scottish youngsters with their first chance to see another pioneering initiative that is most definitely at the cutting edge of 21st Century engineering. As one of the main sponsors of the exciting and iconic Bloodhound Project we have arranged for the full size replica of the 1,000mph World Land Speed record car to make its first appearance north of the border at the iconic Riverside Museum, here in the Engineering capital of Scotland.  I am sure everyone will be enthralled at the technological challenges and supersonic aspirations of the Bloodhound project team.  And, by hosting special activities and workshops for local schools to coincide with the visit, I am confident this initiative will prove to be inspirational for the next generation of Scottish engineers, scientists and technologists."
Ends